Winter 2022
NIDA Newsletter
Potential Content/Trigger Warning
Residential schools, Indigenous harm and trauma, colonialism, systemic racism, intergenerational trauma.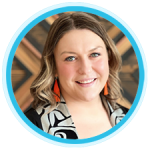 Executive Director Message
Happy Holidays from the National Indigenous Diabetes Association Board of Directors and staff!
This past month has been very busy at the National Indigenous Diabetes Association (NIDA). We were happy to participate in a few different conferences and learning opportunities. Thank you to the Indigenous Diabetes Health Circle (IDHC) for having us at their virtual conference in October and thank you to Diabetes Canada for having us at their Professional Conference hosted in Calgary, AB in November. Lastly, thank you to IDEA Diabetes for hosting us at their Stepping Stones workshop in early December.
We are currently finalizing many different projects at NIDA. Many of them will pause for the Holiday closure but will resume in full force in the New Year. We are currently planning a Face-to-Face Gathering for the Indigenous Community of Practice for Canada's Tobacco Strategy and a 2023 NIDA Conference. We will also release more information regarding the Indigenous Framework for Diabetes in Canada in the New Year. Keep an eye out for information, save the dates, and other exciting news!
The National Indigenous Diabetes Association will be hosting its 2022 Annual General Assembly on March 2 nd , 2023, in Winnipeg Manitoba. NIDA is currently accepting nominations for the 2022 Caroline Daigneault Diabetes Shkaabe Award – Details and the nomination form can be found HERE. NIDA is also accepting nominations until January 31, 2023 for the volunteer Board of Directors. If you are interested please contact me for more information at celestetheriault@nada.ca.
We would like to sincerely thank our contributors Crystal Bomberry from Indigenous Diabetes Health Circle (IDHC) and Natalie Riediger from the University of Manitoba (UM) along with students Anne Waugh and Mya Kidson from UM for the submissions in this newsletter.
For many, this time of year brings excitement and joy as we make plans to gather with family and friends. For others, this time may bring heightened anxiety, overwhelm, or burnout. In the spirit of finding balance, I encourage everyone to take care of their well-being this Holiday Season, keeping your mind, body, and spirit top of mind. For more on Winter Wellness relating to Body, Mind, and Spirit, I am pleased to share Crystal Bomberry's newsletter submission found below.
Wishing you all a Happy New Year that brings health, rest, happiness, and peace to you and your loved ones!
All my relations,

Celeste Theriault
Executive Director
Exploring the perceptions of diet drinks among Indigenous adults in Manitoba
By Mya Kidson and Natalie Riediger
Participants in North End
Participants in Flin Flon
Participants in Island Lake First Nation
What began as a study focused on exploring perspectives of a sugar-sweetened beverage tax among Indigenous adults later expanded to explore perceptions of diet drinks. Diet drinks are beverages sweetened without regular sugars and instead have aspartame, sucralose, or acesulfame potassium, sometimes referred to as non-nutritive sweeteners. Between June 2019 and June 2022, our research team interviewed 74 Indigenous adults living in three parts of Manitoba: Flin Flon, the North End neighbourhood in Winnipeg, and Island Lake Anishininew Nations. This study was part of a larger, multi- partner, community-based participatory study involving the National Indigenous Diabetes Association, Four Arrows Regional Health Authority, and Fearless R2W.
Results from the study demonstrated that diet drinks were viewed as an alternative to regular pop. Perceptions of how diet drinks were viewed as an alternative were however divided. Three sub- themes were prevalent in most of the discussions: health reasons, different taste preferences, and mysterious but negative health impacts of consuming diet drinks.
Diet drinks for health reasons
The main reason for diet drink consumption was health reasons. Diet drink consumption was prominent among participants with type 2 diabetes; however, younger participants frequently discussed the teasing and judgment from others about drinking diet beverages. Participants said that it was often assumed someone was drinking diet beverages for weight or diabetes management – they rarely talked about drinking diet beverages outside of the context of health. One individual mentioned that their son with type 2 diabetes drank regular pop in social situations because he did not want his peers to know about his diagnosis.
These results might suggest that diabetes stigma is more prevalent among younger adults, which is a topic of further exploration. Diabetes stigma arises due to the misconception that the individual is responsible for eating healthy foods, despite many factors that influence food intake and diabetes being influenced by factors out of one's control, such as food insecurity, intergenerational trauma, and adverse childhood experiences – all products of colonization.
Different taste preferences
Individuals who did not consume diet drinks noted their distaste for non-nutritive sweeteners. For many respondents, SSB were unmatched for pleasure and enjoyment, which was a primary reason for not consuming diet drinks. Diet drinks were not as tasty or refreshing as their sugar-sweetened counterparts, said participants. There was a shared distaste for non-nutritive sweeteners among participants -- one individual related these sweeteners to "poison" for both the taste and questionable health effects.
Mysterious but negative health impacts
A number of participants were hesitant to consume diet drinks because they were concerned about the negative health impacts of consuming non-nutritive sweeteners. Participants mentioned seeing news articles about the negative health effects of non-nutritive sweeteners, primarily aspartame, which made them question if it was any healthier than sugar. Some participants were particularly concerned about children consuming aspartame. When asked or when participants expanded on their concerns, participants were vague in their perceived health impacts, only that aspartame was worse or just as bad as sugar, cause heart problems, or were seen as chemicals.
A Google search of non-nutritive sweeteners provides a mixed bag of articles – you'll find reputable researchers, health organizations, and not-so-reputable sources demonstrating the health benefit of non-nutritive sweeteners, while others urge consumers to avoid sugar alternatives altogether. The evidence for or against non-nutritive sweeteners continues to be a topic of controversy. Unfortunately, for those looking to switch from sugar-sweetened beverages to something healthier, it can be hard to distinguish fact from fiction when looking to the internet for answers. For example, while guidelines from health organizations, such as Diabetes Canada, explicitly mention that individuals with diabetes should avoid sugary drinks and opt for water, there are no recommendations surrounding diet drinks.
Clear recommendations and addressing myths about non-nutritive sweeteners may help Indigenous communities in preventing and managing diabetes. Additionally, diabetes stigma may negatively affect dietary management of diabetes via the social labelling of foods or beverages deemed specifically for diabetes management.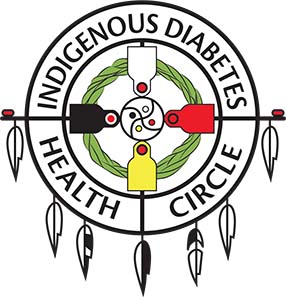 Winter Wellness for Body, Mind, & Spirit
By Crystal Bomberry
Mohawk Nation, Turtle Clan of the Haudenosaunee
Six Nations of the Grand River Territory
Community Knowledge and Partnership Worker, Indigenous Diabetes Health Circle
January is the coldest time of the year here in regions of the Northern Hemisphere. In the Cayuga language of the Haudenosaunee, winter is known as gohsréhneh (with a whispered 'o') and January is known as Gaya˺dagό:wah.
Each season presents a new set of natural instructions for every living plant, tree, animal, and insect to fall in line with. We humans strive to do the same by remaining productive yet mindful about balance. This can be challenging with the cold days and long nights that winter brings and we may sometimes want to hide away to stay warm, cozy, and comfortable.
Taking an open minded approach to winter allows us to expand our options in greeting this beautiful season in a wise way. If we set our intention to look deeply, understand, and embrace all the wonderful things that happen during the winter, we can deliberately partake in the beautiful changes. We can become one with them by graciously balancing our rest and activity times.
Most of us have heard of or experienced the downfall of 'hibernating' in an attempt to stay warm during the cold winters. This can often be accompanied with overeating, underactivity, a general lack of motivation, and feeling the holiday blues for various reasons. Although living in the present moment is a gift to behold, a reasonable amount of mental and physical preparation for any change is a valuable practice, even if it may seem we can never fully prepare for anything. After all, though certain events are beyond our control, it is a comfort to know that we do have control over ourselves and our responses.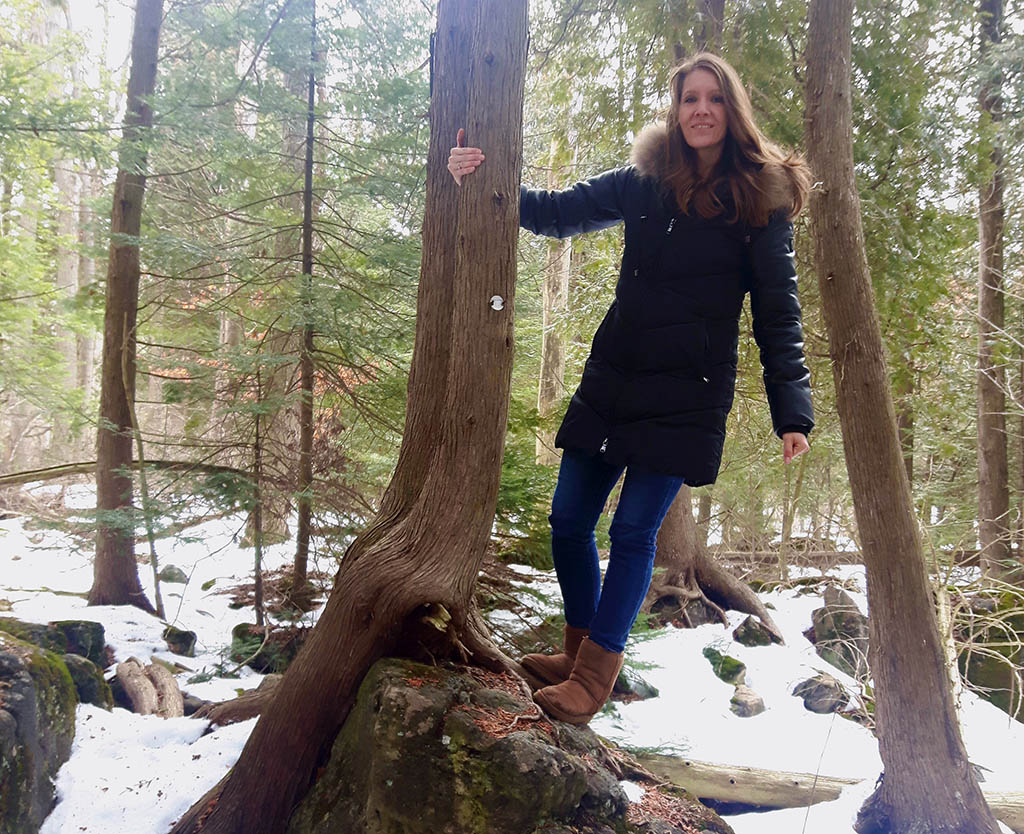 Mental and Physical Preparation for Winter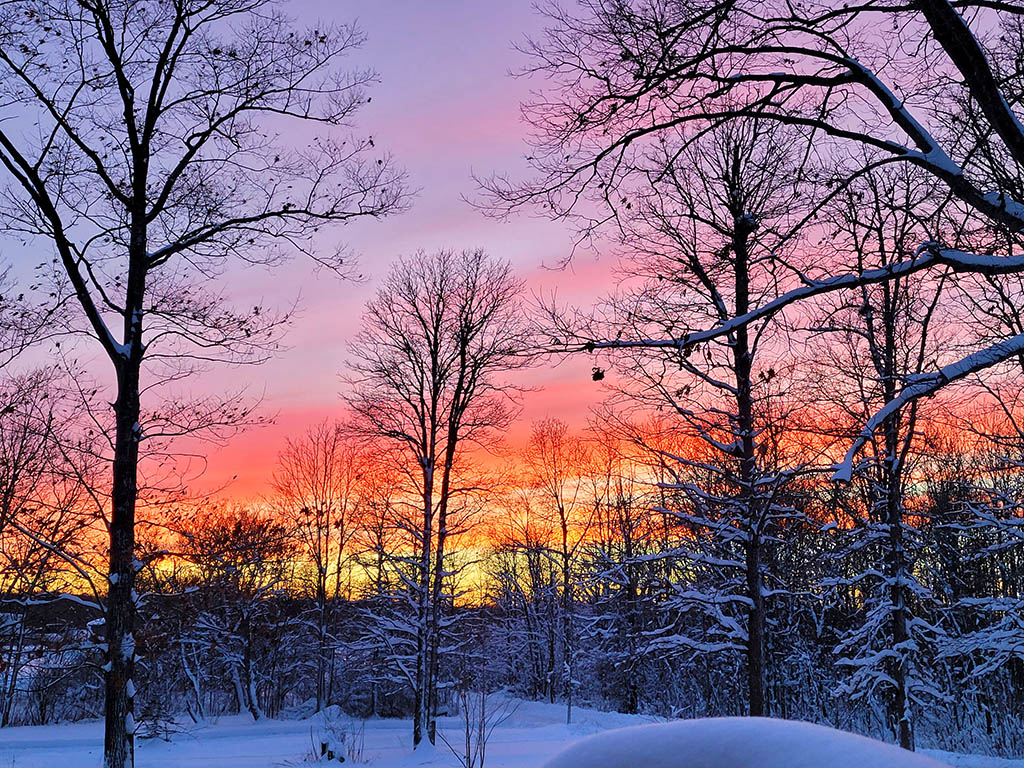 Adopt a mindset of openness and invitation for the season
Give thanks for the sacred ecological balance all the seasons provide
Ensure proper winter wear to preserve your heat when outdoors
Think of places you can walk to get your steps in; your yard, the block, or a trail
Plan for fun winter activities such as snowshoeing
Collect soup recipes that are packed with nutrition and a relief from the cold
Learn about traditional teas intended to cleanse or build immunity
At the end of the day, any maintenance we do for ourselves boils down to intentional self-care. Life will inevitably challenge us with hills and valleys, but with mindful self awareness and nurturing, we build our resilience. Resilience is defined as "the capacity to recover quickly from difficulties; toughness" or "the ability of a substance or object to spring back into shape; elasticity". Though there is no need to rush through our obstacles, we are more likely to stand face to face with them when we have spent time maintaining ourselves with intention rather than falling too deeply into various comfort zones we become attached to.
Simple Daily Mindfulness Practices for Winter Wellness
Body
Get at least 30 minutes of exercise/day at least 5 days/week; play in the snow!
Regard your body as a sacred vessel needing regular care to feel and be well
Eat mindfully; enjoy a variety of foods, a balanced plate, and enough water
Practice relaxation to decompress (especially before bed) to ensure restful sleep
Mind
Nurture a 'good mind' by being aware of thoughts; transform negative to positive
Practice positive affirmations
Learn about meditation and practice
Be aware of your breath and utilize simple breathing practices for mental clarity
Spirit
Give thanks always; use a gratitude journal to jot down things you're grateful for
Connect with nature and the elements to uplift body, mind, and spirit
Embrace life lessons for growth and transformation
Smudge to clear tension or negativity away from yourself and your surroundings,participate in ceremony
We at IDHC hope you remember the wholeness of your being and find sincere enjoyment in the winter season.
May the new year be one of peace, love, and many blessings.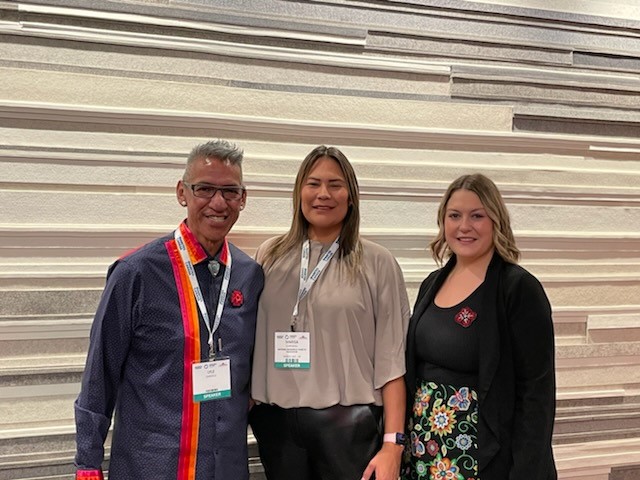 World Diabetes Day 2022
NIDA Executive Director Celeste Theriault, NIDA Chair Lyle Daniels and NIDA Co-Chair Marisa Cardinal at the 2022 Diabetes Canada/CSEM Professional Conference on November 09, 2022 - November 12, 2022, at the Calgary Telus Convention Centre.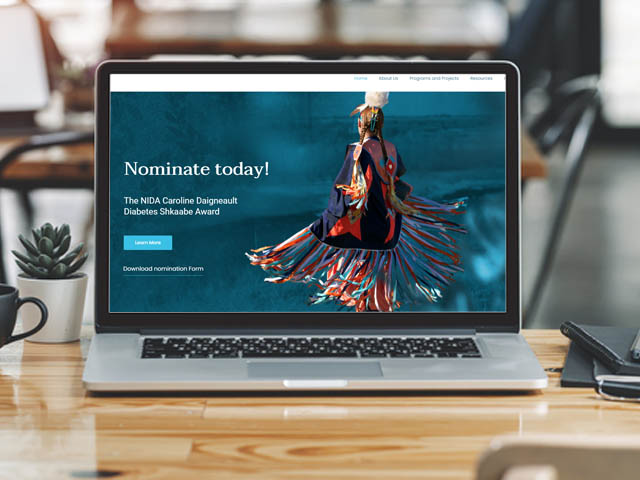 NIDA Website Re-designed
NIDA is excited to announce the launch of our website redesign. Please visit www.nada.ca to checkout available resources and Diabetes related information. We hope you enjoy!
Sugar-sweetened beverages and addition: Results from interviews with Indigenous adults in Manitoba
By Anne Waugh and Natalie Riediger
Staring in May 2019, and up to April 2022 our research team conducted interviews with Indigenous adults from three locations in Manitoba: Flin Flon, Island Lake Anishininew Nations and the North End neighborhood in Winnipeg. A total of 74 interviews were completed, and with these interviews we sought to explore perspectives on sugar-sweetened beverages, and their potential taxation. For this project we partnered with Four Arrows Regional Health Authority, Fearless R2W, and the National Indigenous Diabetes Association (NIDA), who have all been involved at every stage of this study.
Out of our 74 interviews, 15 were in Flin Flon, 39 in Island Lake, and 20 in the North End. The interviews our research team conducted were based on a set list of questions, and also included prompts from the interviewer. Just over half of the interviews (40) took place in person, and the rest were performed over the phone, due to COVID-19 social distancing orders. Each interview was audio- recorded, and transcribed word for word, so that we could analyse the full interview conversation.
From our analysis of the interviews, we found that addiction was a narrative that came up consistently throughout, both in the potential for sugary beverages to be addictive, and the context of other, pre-existing addictions. In terms of other addictions, sugar-sweetened beverages were considered to be an option to help with management or stopping usage other addictive substances, as well as an alternative coping mechanism for stressful situations. One participant described their past of "emotional eating" and that sugary beverages were part of it.
Sugar was also described as being addictive itself and compared by one participant to "cocaine". Many of our participants also reported that they experienced physical symptoms after not consuming their regular amount of sugary beverages, "a detox", or that they weren't able to control drinking sugary drinks, and wanting to "keep something in hand". Other participants also described building up a "tolerance" to sugar-sweetened beverages.
Notably, several participants spoke about drinking sugary beverages alone or "hiding in my room". Some participants mentioned not wanting family to see them drinking sugar-sweetened beverages due to their families' concerns about their health. Another reason to drink alone was that some participants felt judged by their families when consuming sugary drinks, for the same reasons. Some participants did not specify why they preferred drinking alone – we speculate some may have wanted to not drink in front of their children, not share, or just wanted to be alone.
Finally, in discussions of sugar-sweetened beverages and addiction, there was also a realization for change, where some participants were looking to reduce their intake of sugary drinks, in the hope that a change would have a positive effect on their health. One participant said that reducing sugar- sweetened beverage consumption "helped tremendously" with their health.
As the first sugar-sweetened beverage tax has now been implemented in Canada in Newfoundland and Labrador, which took effect September 2022, and is supported by multiple Canadian health organizations, our exploration of perspectives of sugary drinks is increasingly critical and timely. Through our interviews with Indigenous adults, we have identified that sugar-sweetened beverages and addiction are linked in multiple and complex ways, including as a way to manage other addictions, as well as being reported as an addiction itself. In this way, efforts to address sugar-sweetened beverage intake among Indigenous people should consider potential stress or trauma as contributing to high levels of intake, likely attributable to colonial policies.
Our research suggests an alternative approach to address sugar-sweetened beverage intake among Indigenous people, such as a trauma–informed approach, to address underlying factors that may contribute to high intakes.
NIDA board of Directors
Elder Robert (Bob) Fenton
Elder Margaretta James
NIDA Board Chair Lyle Daniels
NIDA Board Co-Chair Marisa Cardinal
NIDA Board Treasure Lorraine McLeod
NIDA Board Secretary Laurie Ann Nicholas
NIDA Board Past Co Chair/Secretary Robynne Edgar
NIDA Board Director Mike Alexander
NIDA Board Director Dr. Barry Lavallee
NIDA Board Director Mary Beaucage
NIDA Staff
Celeste Theriault NIDA Executive Director
Sylvia Sentner NIDA Administrative Coordinator
Get Involved
The proceeds from the membership fees and donations go towards funding activities and projects.